Guest Chef Series: Jehangir Mehta
Posted March 04, 2015
in
Dining
by
Brooke Lavallee, UMass Dining Marketing Intern
On Thursday February 26th, we welcomed Guest Chef Jehangir Mehta to Berkshire Dining Commons for "The Trend is to Blend" cooking demonstration. Students packed into the Berkshire room for a Mushroom Mania cooking demonstration and a presentation from members of the Mushroom Council of America.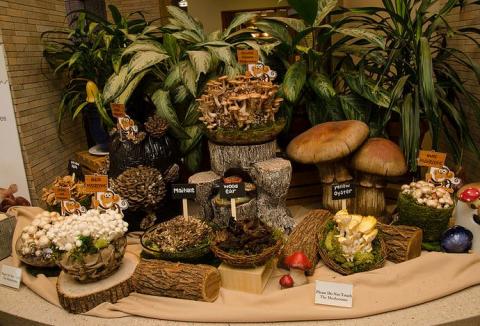 During Mehta's demonstration, he asked students to help him blend all the ingredients of his famous Graffiti Burger together. He recommended adding finely chopped mushrooms into your favorite meals as a substitute for a portion of ground meat, as they are low in calories and fat-free.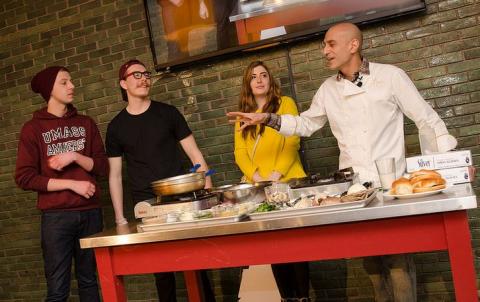 Mehta held a captivated audience as he stated how fortunate students are to eat with UMass Dining, even jokingly suggesting that students get UMass Dining #1 tattooed on their foreheads.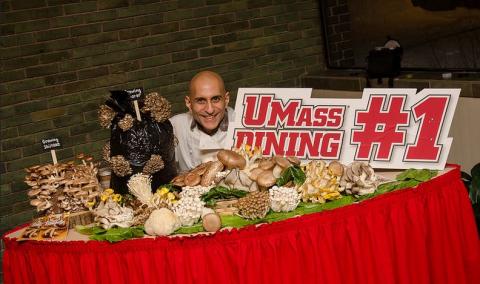 Earlier in the night Mehta told us how impressed he was to see the whole college rejoice in eating healthily while instilling healthy portion sizes. Mehta stated, "I think personally whatever efforts people do to eat less red meat by adding mushrooms and other vegetables is a great thing."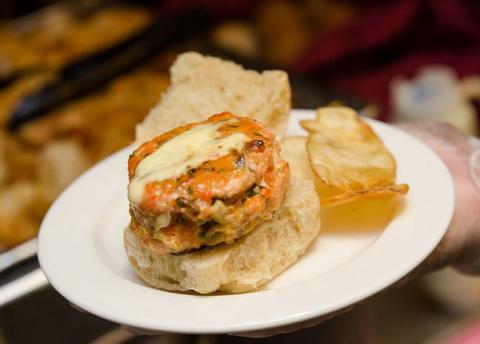 Featured above: Spicy Salmon Blended Burger
Not a student left the demonstration disappointed as Mehta and the Mushroom Council awarded a number of lucky students Mehta's book Mantra: The Rules of Indulgence. The book shares his holistic approach on refreshing the body, mind and spirit through delicious recipes using only the purest and most beneficial ingredients. The event was a success as students rushed to take photos with Chef Mehta and talk to Mushroom Council representatives about the many benefits of mushrooms.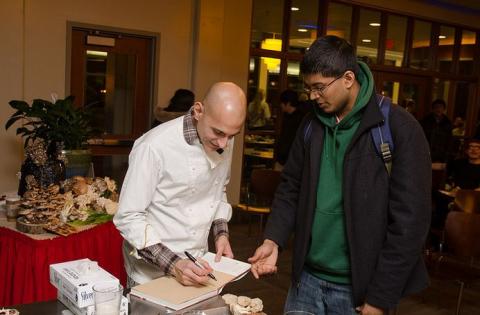 Image: