Best Vegetarian Options throughout Campus
Posted April 09, 2014
in
Nutrition
by
Brooke Lavallee, UMass Dining Intern
Looking for a place on campus that has great vegetarian options? Look no further; this post will fill you in on all the best retail locations and hot-spots around campus for delicious and nutritious vegetarian meals, all provided to you by UMass Dining!
If you're reading this and you're not necessarily a vegetarian but are trying to learn more, here's a brief overview (in the simplest terms possible): a vegetarian is someone who lives on a diet of grains, nuts, seeds, vegetables, and fruits with, or without the use of dairy products and eggs. A vegetarian does not eat any meat, poultry, and fish.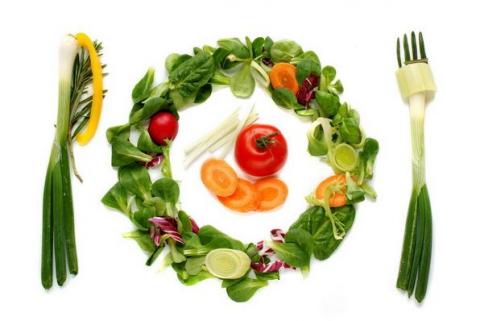 So, to get started, I would first recommend exploring the four campus dining halls. Each dining hall has different options and offer the widest variety!
Let's break it down.
Franklin Dining Commons is most famous for their vegetarian and vegan cuisine, so if you're looking to use a swipe, I would recommend starting here. With the largest veggie station (all locally sourced, which is an added plus), you can't go wrong. I personally would recommend the vegetable lasagna here! (Sorry vegans!)
If you're craving sushi, Hampshire Dining Commons is the place to visit! Sometimes plain veggie rolls just don't cut it, so experiment a little! I recommend a cucumber, avocado, mango roll with teriyaki sauce and spicy mayo!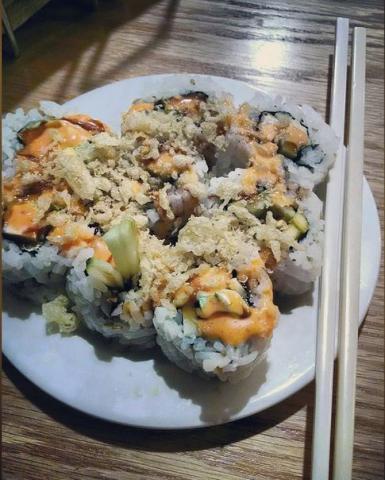 Berkshire DC's vegetarian station is also very delicious. My favorite is make-your-own quesadilla day, where I would recommend a black bean quesadilla with fresh corn! If it's not quesadilla day, no worries! You can always stock up on items like pesto tortellini and fresh sautéed zucchini and yellow squash.
If you're looking for some delicious Asian cuisine, then stop by Worcester DC! The sautéed vegetables are sure to please and, while you're there, try out the pho noodles with tofu and veggie broth!
Don't forget about the salad bar in each of the dining halls!  You'll surprise yourself with the   tons of different creations you can make you'll end up with something a little like this: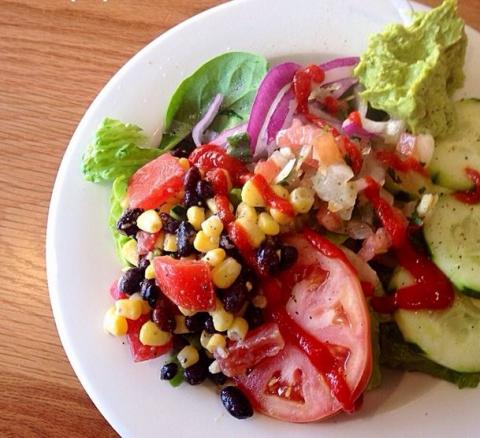 If you find yourself between classes on campus, or just looking to use a YCMP swipe, then try visiting the Earthfoods Café in the Student Union. And while it's not an official UMass Dining location, Earthfoods accepts YCMP swipes and their selection of vegan and vegetarian options is delectable and offers great variety each week! Some personal favorites are the portabella burgers, the mac and cheese, and the pad thai. And if you're like me and have a killer sweet tooth, you'll be sure to try the gingerbread, fresh zucchini bread and the chocolate snickerdoodles!
The Hatch, located on the first floor of the Campus Center, is also another hot spot for vegetarian cuisine. I would specifically suggest trying the Pho Noodles at Star Ginger.  If you're walking through campus and see the Baby Berk food truck, be sure to try a moist veggie burger. Can't find the truck but still craving that veggie burger?  You can find the exact location of the BabyBerk food trucks on Twitter @UMassBabyBerk and @UMassBabyBerk2!
Lastly, if you're having a late night at the library and need a study break then stop by the 24/7 Roots Café and try a cheese quesadilla loaded with fresh guacamole!
So there you have it, the ins and outs of all my on-campus, vegetarian favorites!
Whether you've been a vegetarian all your life, or you're just starting out, it can sometimes be hard to find food variety throughout campus. But a perk of having the "#1 Best Campus Food" is having tons of delicious food options for every student!
Image: