Grow Your Own at UMass: Indoor Herb Gardening
Posted March 11, 2014
in
Nutrition
by
Katie Cole,
Spring is just around the corner and what a better way to start it off by planting an indoor herb garden. You're probably thinking to yourself "how do I plant an indoor herb garden when I live in a college dorm room"? No worries! Indoor herb gardening can be fun, easy and you don't need the square footage that a regular garden requires.
The following is a "how-to" on indoor herb gardening, a unique way of growing edible plants right in the comfort of your own dorm room.
What kind of plants can I grow?
Herbs are great plants to start an indoor garden as they are fairly easy and manageable, you won't be needing to take large amounts of time out of your schedule to maintain them. The following is a list of herbs that grow well indoors; basil, cilantro, chives, marjoram, mint, sage, thyme, oregano and rosemary. Remember to start small as you can always add more plants to your indoor garden later. You can start your herb garden by purchasing seeds or starter plants. If this is your first time gardening, it may be a good idea to start from seeds as the packaging for each type of seed will provide you with the most accurate information on seed spacing, planting depth, how much sunlight the plant will need and how long it will take the plant to grow.
What kind of container do I use?
A few things to consider when selecting a container; it must be big enough to support the full size of the plant, hold soil without spilling, have adequate drainage and never have had toxic substances in it. Some re-usable container options include clean milk jugs, yogurt containers, window boxes or herb pots found at a local gardening center. Visit a local restaurant or the dining commons to see if they can put aside containers for you.  You will also need a small saucer or something similar to place underneath the container to ensure water is not spilling everywhere.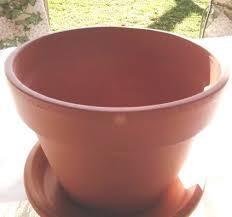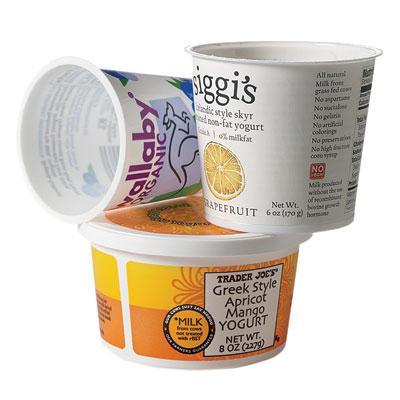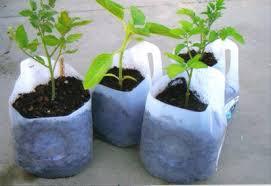 What type of soil to use?
Start by adding gravel to the bottom of the container to allow for proper water drainage. Next, use  prepackaged planting soil from a local gardening store or consider potting soil mixed with perlite or sand. Adding perlite or sand will allow for proper drainage of water and air flow through the soil. Herbs do not like their roots soaking wet so make sure that you are not overwatering. Most importantly, don't forget to poke several small holes in the bottom of each container.
Taking care of your plants
Although indoor gardening is a great alternative to outdoor gardens, most plants still need some sort of light to grow. Finding a south facing window in your room will give the plant sunlight for a good portion of the day. West and east facing windows are also good options for providing light to your plants. If you do not have enough light coming in through your window you may want to consider taking the plant with you in a sunny hallway while you study for a couple of hours. Keeping a lamp next to your plant will also help. Remember to adequately water your herbs to prevent them from drying out and spray or mist water on the plant at night. If the windowsill gets too cold at night move the plant to another location and return it to the windowsill in the morning.
Finding gardening supplies
UMass's close proximity to a large farming community means you will be sure to find several different locations that sell gardening supplies. Here are a couple of gardening stores fairly close to campus.
Hadley Garden Center
Website: www.hadleygardencenter.com
285 Russel St. Hadley, MA
(413)584-1423
Amherst Farmers Supply
Website: www.amherstfarmerssupply.com
320 South Pleasant St. Amherst, MA
(413)253-3436
Check out this short video on how to plant indoor herb gardens
http://www.youtube.com/watch?v=ot0r_amtHZk
Recipes
Cilantro Guacamole
2 large ripe avocados, skinned and mashed
1/2 cup finely minced onion
2 small tomatoes, finely chopped
1/4 cup of finely chopped cilantro (add a bit more if you really like cilantro)
1 or 2 jalapeño peppers, seeded and minced
Juice of 2 limes
Salt to taste
Mix all ingredients and serve immediately.
Garden Fresh Pesto
3 cups fresh basil leaves
1 ½ cups chopped walnuts or pine nuts
4 cloves garlic
¼ cup grated parmesan cheese
1 cup olive oil
Salt and pepper to taste
Place all ingredients into food processor for 1 minute or until completely smooth.
Zucchini, Mint and Yogurt Spread
1 large zucchini, sliced lengthwise and cut into 1-inch half-moons
2 tablespoons olive oil
1/2 cup Greek yogurt or labneh
2 tablespoons mint, roughly chopped
zest of 1 lemon
salt and pepper
green olives for garnish (optional)
Directions:
Place olive oil in medium size pan on medium-hot heat. Sautee zucchini for 5 minutes. Remove and cool to room temperature. Place zucchini and remaining ingredients into a food processor and blend until smooth. Serve with your choice of vegetable slices or pita bread for dipping.
Image: