Inside the UMass Permaculture Garden Crew: Sammi Gay
Posted June 06, 2014
in
Sustainability
by
Sammi Gay, Student Garden Manager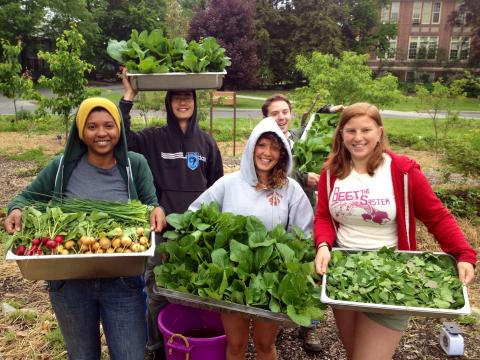 Heya! My name is Sammi Gay and I'm the new Student Garden Manager here with UMass Permaculture. A few things about me: I'm a NYC native and a rising junior at UMass. I am studying 'Sustaining Urban Communities through Education' via the BDIC (Bachelor's Degree with Individual Concentration) program. My goal with this interdisciplinary approach to education is to provide myself with an all encompassing view of our world in terms of: marginalized identities, community development, systems of power, permaculture, organizing, sustainability, and justice. Essentially, I'd love to have my own community space that hosts programs/workshops back in NYC that gives people the space to organize, grow, learn, act, and connect.
These days, my favorite accessory has been a smile. It all feels so easy and natural- UMass Permaculture plays a big role in my happiness. One of my main goals for this summer is to connect with the land and with people. Being a part of the summer garden crew has fostered those connections so genuinely. Mornings are a breeze, I never would have thought that I would be so excited to wake up and play in dirt each day. I have been learning so much- from qualities of various weeds and bugs to the way a fruiting peach tree looks. I'm soaking it all in. Without much effort, each life stage of all things growing in our garden has become so important to me. I jump for joy when plants begin to flower and veggies are ready to be harvested. While we're on the topic, the people are also so, so important to me. As a crew, we spend a lot of time together. As it is early in the season, the overall positivity and the genuine desire to work and learn from us all are so evident. Having the opportunity to learn and grow (amongst the herbs, trees, and vegetables) as a collective is undoubtedly my favorite part of it all. We each bring something to the table and it's beautiful to see how well we all compliment one another. My days feel incomplete when I must go without duets with Lilly, quizzes from Nathan, shared jokes with Sara, and mini-bike rides with Scott & Matt- and of course stories and laughs as a crew. It's only the beginning of our summer but I already can feel the goodness of the upcoming days. It just keeps on getting better.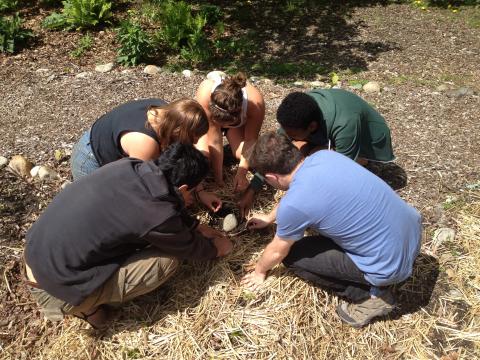 At this moment, all things in my life have two consistent factors- growth and flexibility. UMass Permaculture has been such a positive addition to that. I am able to intersect my interests here. Since I've started working with the department in February, I've not only learned SO MUCH about permaculture but also about myself. It's more than a job to me, working in the gardens has only reassured my life goals. A lot of people, on both a national and global scale, don't have access to healthy food options, especially those in poverty stricken areas or in urban cores. They don't know how their food grows, who is growing it, or where it comes from. I can't even begin to describe how wrong that is. The gap of food injustices needs to be bridged and the reconnection/introduction to nature & food needs to be fostered. I'm grateful that I am now being equipped with the tools of gardening/permaculture, so I can bring it back to communities where it's most needed. Collectively, we need to change the way we think about food. Permaculture is a radical approach to change and a revolution that re-envisions food relationships. It's crucial that the seed of positive and just change is planted in all minds. That's why simply seeing volunteers/students so involved and interested in what we have going on at the gardens brings me so much joy. Education is the key. I am so happy to be able to both receive and offer it while working here.
Image: