Mount Ida Campus of UMass Amherst
The Mount Ida Campus of UMass Amherst is located in Newton, MA. Students, staff and faculty in the area are encouraged to enjoy award-winning UMass Dining at the Main Dining Room, Campus Center. Visit our Meal Plan page for more information regarding our dining establishment and meal plan prices. Our Campus Meal Plan (YCMP) options are listed below:
Meal Plan Options for 2019-2020 (Fall, Winter Session, Spring Semesters)
Unlimited 250 $3,159/Semester
Unlimited DC access, $250 Dining Dollars and 15 Guest Meals
YCMP Off-Campus 155 $1,931/Semester
155 DC, Retail, or Guest Meals and $200 Dining Dollars
YCMP Off-Campus 65 $882/Semester
65 DC, Retail, or Guest Meals and $150 Dining Dollars
YCMP On-The-Go! $800/Semester
$800 Dining Dollars and 5 DC Meals
YCMP Summer/Winter $220
January 2020 and Summer 2020. Purchase in increments of 20 Meals 
Optional Add-ons:
Block of 10 Additional DC Meals- added to any Meal Plan $120
Dining Dollars in increments of $25- added to any Meal Plan with Dining Dollars $25
*Cash Value of a DC Meal Swipe in Retail Locations is $10.50
*Dining Dollars roll-over from fall semester throught spring semester
Catering Menu UMass Amherst Mt Ida Campus
Express Catering Menu UMass Mt. Ida
Mount Ida Dining Services
If you have any questions please contact Dining Services at 617-243-1360.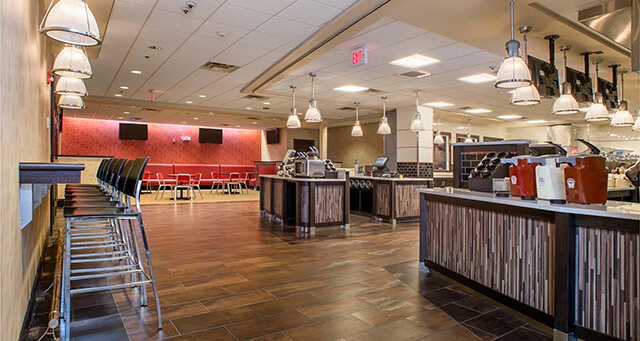 Our Location
777 Dedham Street, Newton MA 02459